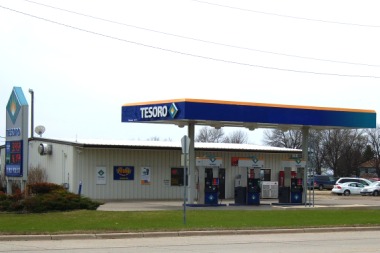 We have several businesses throughout Pennock. The Pit Stop, seen here in this photo, is located at the intersection of HWY 12 and County Road 1.
Pit Stop Convenience Store opened January 24, 2007 after a three month remodel of the building. New installations needed to be made to accommodate the kitchen area. The efforts we have put into the business are well received by our customers.
Store hours: Monday – Friday 5:30 am – 8 pm
Saturday 6 am – 6:30 pm / Sunday Closed
We are branded Tesoro and carry 87, 89 and 91 gas as well as diesel. The north nozzle for diesel is a high speed which works well for large trucks/semis. Kerosene is also available from a bulk tank. We offer an exchange program for LP tanks.
The ovens are on all day. The fryer for chicken is available 11 am – 7 pm.
Breakfast every morning offers a variety of products: croissant or biscuit sandwiches, pizza, tornados, burritos as well as miscellaneous items. Lunch offers one main entrée Monday – Friday as well as pizza, tacos, chicken and many miscellaneous items.
Deli Max Pizza and Subs are available all day. Some sandwiches and salads are ready made in the display case, as well as Take N Bake pizzas. We are prepared to make your pizza, sub or salad to your liking as you wait. Many toppings to choose from.
Teco Taco is also available all day. Soft/hard shell tacos, burritos or taco in a bag. Beef or Chicken, mild or hot sauce – we will make it the way you like it.
We appreciate your business. Feel free to stop in, take a look at our store to see what is available for you. Call ahead with an order if you like: 320-599-5117
For a complete PDF of all Businesses with Phone Numbers and Websites - Click Here